Download Cookie Wars APK Free Download
Cookie Run: OvenBreak by Devsisters Corporation Company got millions of downloads and they're back for more, but this time with battles among the Cookie World residents. A new casual strategy game called Cookie Wars will challenge you to put together a winning team to defeat your opponents.
With incredibly detailed 2D visuals, Cookie Wars immerses you in the story from the very beginning. Controls are very simple. By clicking on the different elements on your screen, you can manage them all.
The goal is to assemble a team of characters that are as powerful as you can make them using the cookies and other characters you will unlock. By defeating your enemies, you'll earn coins that you can use to level up the characters. Alternatively, you can equip them with pets and skills to make them more powerful during battle. In each sand area, you will have to carefully choose a character, much like you would in Clash Royale, so that you can get rid of your rivals before they invade your territory.
There are dozens of characters and elements in Cookie Wars that will have you playing dozens of rounds without being able to stop. You will stay extremely entertained and win all the sweetest battles with this game's simplicity and incredible aesthetics.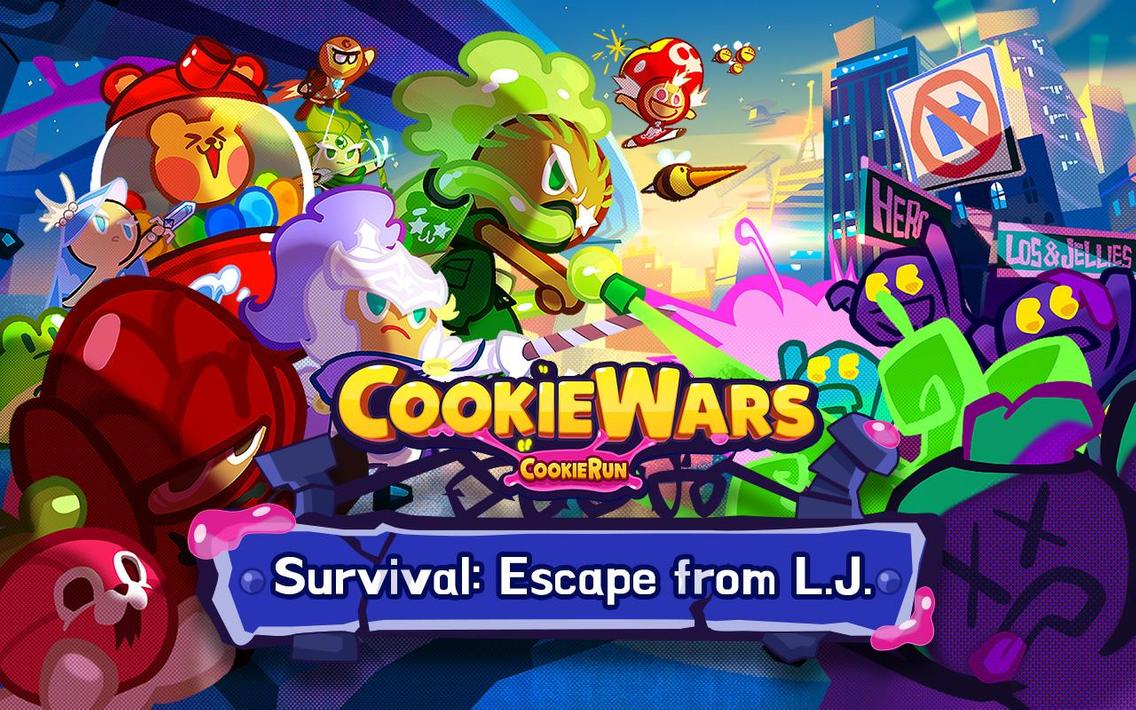 Features
Prepare for the Jellipocalypse!
Jelly Walkers have taken over the Cookie World.

Gather your Cookies and fight to survive!
Enjoy challenging Cookie battles and real-time PvP!
EASY DRAG & DROP CONTROLS!
Quick to learn and easy to play! Anyone can enjoy Cookie Wars!
DIVE INTO THE WORLD OF COOKIES!
Meet the cute and diverse inhabitants of the Cookie World! Collect them all to build the strongest team!
BUILD THE WINNING TEAM!
Level up and enhance your Units to win! Collect Treasures and Donuts to make your team even stronger!
THRILLING STORY MODE!
Cookie friends turned into mindless jellied monsters! Find the source of this menace and save the Cookie World!
GLOBAL PVP BATTLES!
Fight users from around the world in real-time! Find the best tactics and reach the top of the ranking!
EXCITING SPECIAL MODES!
Try your skill in Elemental Dungeons, Tower of Experience, and Star Exploration modes for awesome rewards!
SURVIVAL MODE!
Stop the hordes of Jelly Walkers in the city of Los & Jellies.
Survivors will be generously rewarded!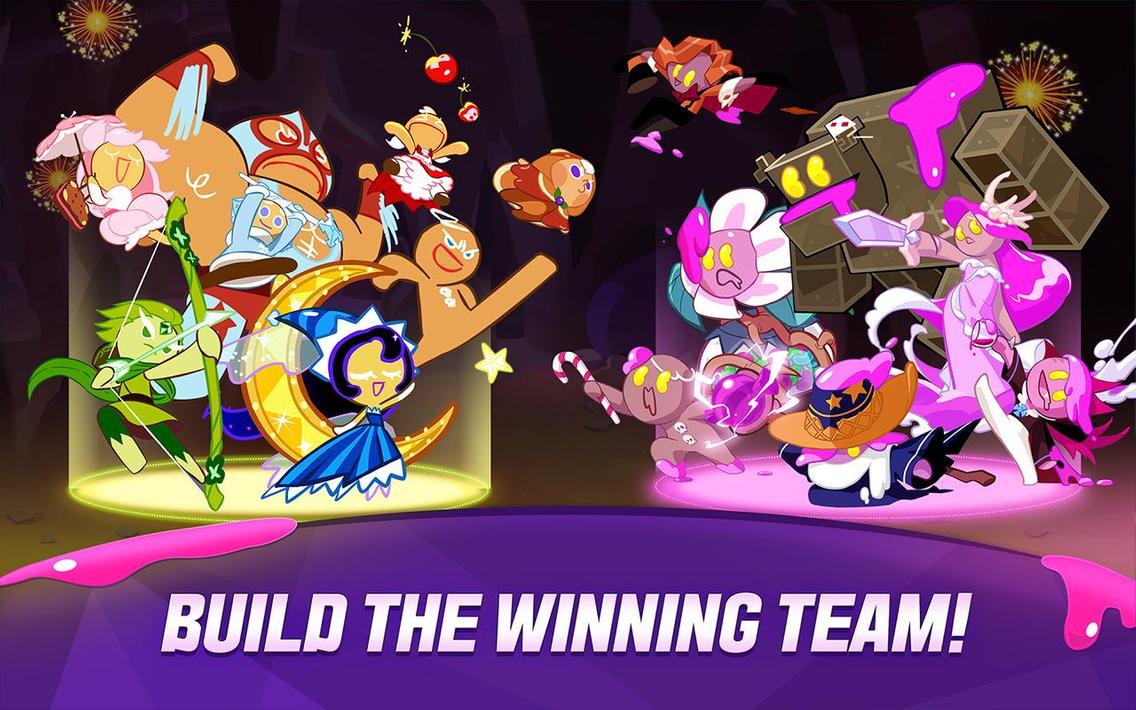 Details About Cookie Wars APK Download
Download Cookie Wars APK Download on your Android smartphones now! Android game lovers have embraced this 84.3 MB Android application as one of the top gaming platforms. The content quality of this game is excellent and it has perfect graphics, which every teen expects from a top-of-the-line game.
Until someone comes up with a better UX design, it will remain the best in the Sports category. It was released on September 16, 2021 and they didn't expect that over a million users would download it on their Android devices so soon. If your device is using 5.0 or higher, this game will work flawlessly. otherwise, it won't work.
You won't have to switch platforms when this game with over 4,827 votes has cutting-edge features to meet your needs. Install the latest version 1.4.2 of the app, which includes bug fixes and new features. You can download it for free from the Google Play Store, and it has everything you need. This impressive game was designed and developed by a team of top Android developers named Cookie Wars APK Download.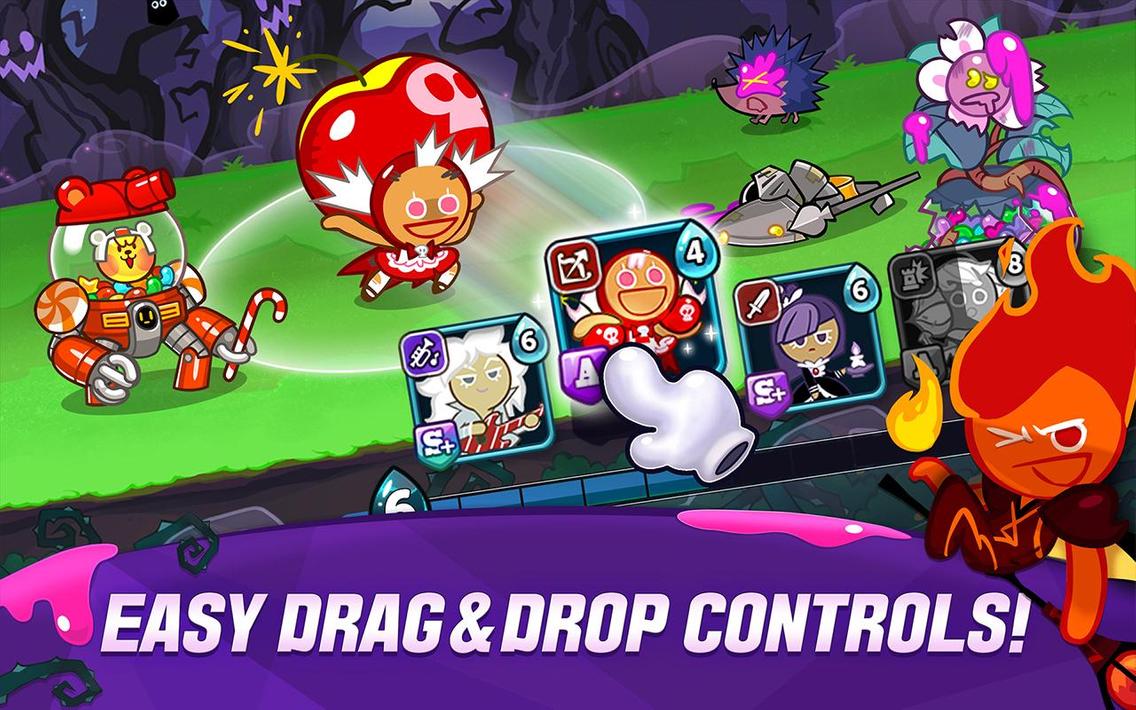 What are the steps for downloading and installing Cookie Wars APK Download APK on Android?
Many games do not work on your Android phone because they are not released in your region or removed from Google Play. However, you can still use them by downloading and installing an APK file from APK Downloader to your smartphone. Here are Step-by-step instructions to clearly explain how to install the application.
1. Download
Download the application by clicking the button above. The download should begin now. Before proceeding to the next step, wait until the download is complete.
2. Allow unknown sources
You should make sure on your device that third-party games are allowed before you can install them.
You will need to open the Settings game on your device and choose Security or Applications (depending on your device). Enable 'Unknown sources' with the OK button.
3. Install the application
Find the download in your file manager, or open Downloads and tap the Cookie Wars APK Download APK file.
4. Start using it!
Set your security mode to the one you prefer, then launch Cookie Wars APK Download.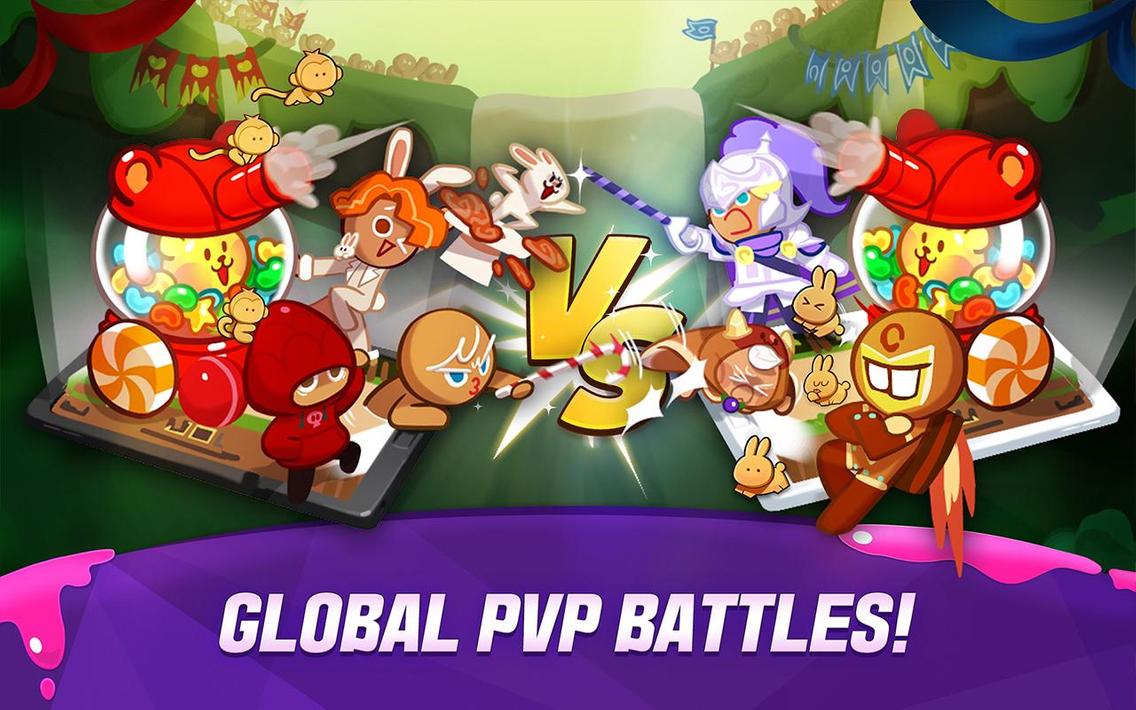 Frequently Asked Questions (FAQ)
Here are some frequently asked questions. Feel free to leave a comment in the contact section if you have any questions. We cannot make any promises, but we will respond as soon as possible. The community is friendly, supportive, reliable to help you, and we hope that you can solve your problems. Don't forget to help others if you can answer their questions.
Q. How safe is this APK to install or does it change settings on my phone?
Ans. Yes! Installing the game is totally safe. Follow the installation instructions and you're set. This game does not require rooting.
Q. Is Wi-Fi required for the app?
Ans. No way! You can play this game both offline and online, so you won't need Wi-Fi to play it, but you'll need it to install it.
Q. What is the purpose of Android game permissions for the game Cookie Wars APK Download APK?
Ans. Some applications require access to your device's systems. You will be informed of all permissions required to run an application when you install it.
Q. Can I use Cookie Wars APK Download safely?
Ans. Yes, of course. Installing modded games can harm your phone, as you may have heard somewhere else. The Cookie Wars APK Download Apk is 100% safe. The APK file has been verified with Virus Total and is 100% clean.
The benefits and consequences of directly downloading the Cookie Wars APK Download Apk?
Benefits:
Any version of the Cookie Wars APK Download Apk can be downloaded directly from the third-party website. You will be able to transfer the game archives of most versions as you wish.
Unlike Play Store, downloading is instant, you don't have to wait for the review process, etc.
APK files are downloaded to your memory card or system memory when the game is downloaded. Therefore, you will have to uninstall and reinstall them repeatedly without downloading.
Negatives:
Downloading games from third-party sources does not seem to be checked by Google all the time. Therefore, it is harmful to your phone.
APK files can contain viruses that steal information from your phone or damage it.
There is a chance that your games will not automatically update because they do not always have access to the Google Play Store.
The bottom lines
Friends, I hope you enjoyed this game in all its aspects. There are many amazing features in this game. You will love playing this app, I promise. This game is very interesting, so download and play it.
The game is completely free. Play this game by downloading it from any third-party website using the Chrome browser.
Are you not sufficiently entertained and amused by Cookie Wars APK Free Download 2021? Then maybe the time has come to try following other Apps on the web who specialize in creating content which is a bit monotonous but capable of getting looks from all and Diverse. We're talking about an app like Chatur Tv Apk Latest Version, Player Latino Pro Apk [IPTV], Popcorn Time Apk, Townscaper Mobile Apk, Queen Red Apk, .
Download Cookie Wars APK Free Download 2021 for your android device. Here you can download Cookie Wars APK Free Download 2021 file free for your android phone, tablet or another device which are supports android OS.
Here more than 1, 00, 000+ Free and premium android apk apps available which you can choose according to your needs. Choose apps from category whatever kinds of apps you are looking for you can find easily and quickly.
All the apps are depending on your requirements, you are always welcome to use our platform to download any apps directly here.
We have made available almost all apk apps file which is directly available for download. The main benefit of using our platform is that you don't need to register or sign up like other platforms.